 Welcome to the Indectron Blog!
Indectron is the UK's newest purpose built Data Centre based in Gloucester. The data centre has a 600 rack capacity split into 3 data halls, with two 3.0MW feeds – Indectron is the best place to house your critical infrastructure.
Indectron has had 100% uptime since we turned the lights on in May 2018. The critical infrastructure that allows us to maintain this SLA are an N+1 configuration that is concurrently maintainable and has diverse power and connectivity routes into the data centre meaning that your servers will always be powered and cooled with no down time. This gives you the confidence that your business will be up and running 24/7/365 avoiding costly downtime!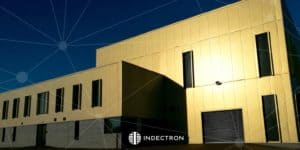 Indectron can help support your critical infrastructure in the follow areas:
Colocation
Dedicated Data Halls
Caged areas
Migration
Lift and Shift of kit
Onsite data and equipment destruction
Connectivity
Remote / smart Hands service
Structured Cabling
Auditing
Moving your current servers is a big undertaking and can often be complex, Indectron can help take the pain out of this process and advise on the best way to do this. It doesn't matter if your kit is onsite and spread out across multiple locations or currently in another data centre. Indectron's expertise have already helped other business' make the move with no issues or breaks in service.
Get in touch to talk to us about use cases, case studies and how we can help you.
sales@indectron.com
01452 452 452